Pet vetted, parent approved.
Spot provides pet insurance plans that help you manage pet health costs for covered conditions.
Spot offers plan options for Accident & Illness and Accident-Only.
Optional Preventive Care coverage is available, for a small added cost each month.
Claims are processed in a swish of a tail. Easy paperless, online claims and direct deposit payment options are available, too.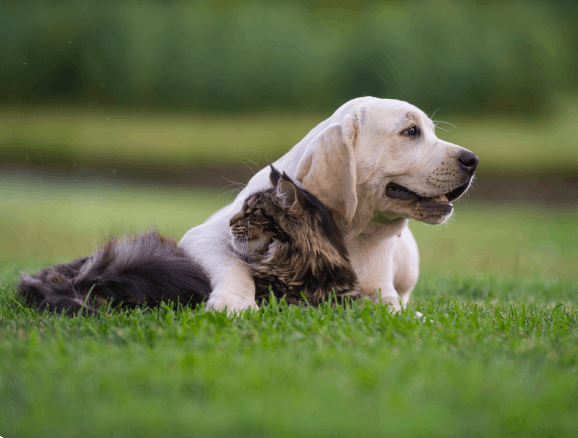 Pet Insurance for Dogs & Cats
We provide pet health care plans for both dogs and cats.
How Pet Insurance Works

Visit Any Licensed Vet, Emergency Clinic or Specialist.
Get the care your pet needs and pay your bill.

Submit Your Claim.
Send it in through our app online, by mail, or by fax.

Get Reimbursed.
Reimbursements for eligible bills can be sent by direct deposit or by mail.
See How Our Competition Stacks Up
<- Swipe to the left to see how we compare
30-Day Money Back Guarantee
Prescription Diets & Dietary Supplements
No Preventive Care Requirements to Cover Certain Illnesses
Accident-Only Plan Available for All Pets
Hereditary and Congenital Conditions
Included
*Comparison information is provided using publicly available information as of 04/18/2022 and is only meant to summarize program features, not a specific plan. Review the provider's plan terms for more details. The description of the providers' plans are not provided by that company. If you have questions about other plans, please contact an agent of that company. It is our intention to provide fair and accurate comparison information. We attempt to keep information up to date but it may change from time to time. If you are aware of any inaccuracies or changes in the information provided, let us know by emailing service@customer.spotpetins.com.
Spot Preventive Care Coverage Add-on Options
Platinum Preventive Care Coverage
$24.95 Per Month
Dental Cleaning or Spay/Neuter

$150

Wellness Exam

$50

Deworming

$25

Health Certificate

$25

Flea/Heartworm Prevention

$25

Dog DHLPP Vaccine or Cat FVRCP Vaccine/Titer

$25

Fecal Test

$25

Dog Bordetella or Cat FELV Vaccine/ Titer

$25

Dog Heartworm or Cat FELV Test

$25

Blood Test

$25

Urinalysis

$25

Rabies and/or Dog Lyme or Cat FIP Vaccine / Titer

$25
TOTAL ANNUAL BENEFIT
$450
Gold Preventive Care Coverage
$9.95 Per Month
Dental Cleaning

$100

Wellness Exam

$50

Deworming

$20

Health Certificate

$0

Flea/Heartworm Prevention

$0

Dog DHLPP Vaccine or Cat FVRCP Vaccine/Titer

$20

Fecal Test

$20

Dog Bordetella or Cat FELV Vaccine/ Titer

$0

Dog Heartworm or Cat FELV Test

$20

Blood Test

$0

Urinalysis

$0

Rabies and/or Dog Lyme or Cat FIP Vaccine / Titer

$20
TOTAL ANNUAL BENEFIT
$250